Mystery NAIL WRAP Bag! || Mystery 14 & 22-tip Sets
$ 35.00
$ 75.00
 This listing is for a MYSTERIOUS BAG O' WRAPS!
*Available for a LIMITED TIME (Until we sell out!):
10 - complete nail wrap sets (14 & 22's)!
Perhaps some licensed & discontinued designs sprinkled in?!
**Photos are just an example of what you might find! Ordering multiple Mystery products may result in receiving duplicate items. 
📦 SHIPPING INFO 📦
Need Help?

IMPORTANT SHIPPING INFO!

NOTE: Due to COVID-19 and our reduced capacity, we have modified how many days a week our team processes and ships website orders. In an effort to maximize our time and resources we are currently shipping unfulfilled orders AT LEAST ONCE A WEEK. Then please add shipping times on top of the processing time. Thank you.

📦 $5 Flat Rate U.S. Shipping
📦International shipments depend on weight & location. WE WISH WE COULD DO SOMETHING ABOUT THE HIGH COST OF INTERNATIONAL SHIPMENTS BUT THIS IS ENTIRELY OUT OF OUR HANDS.


Need More Help?
HAVE A CUSTOMER SERVICE INQUIRY OR GENERAL QUESTION?. Open a new chat with us on our website! Click the "CHAT WITH US" icon in the bottom corner to start!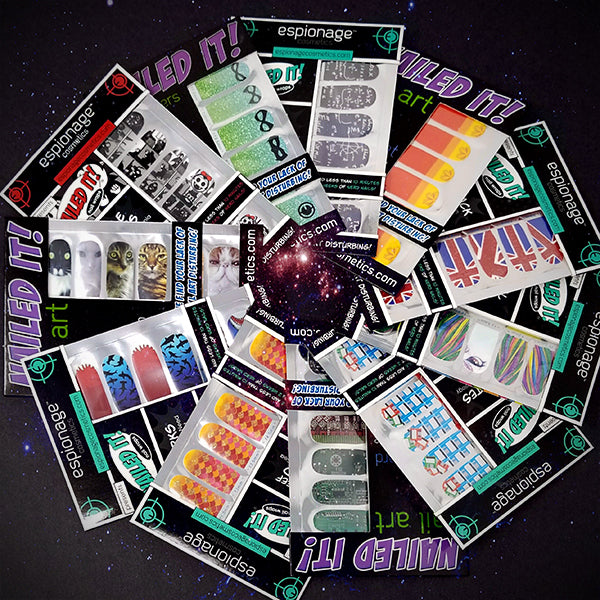 Nail Wrap Heaven
I absolutely loved the mystery wrap package! It lets me try things I would never have thought to try before and helps me come out of my comfort zone. The wraps that don't fit my personal style get re-gifted to people I know will love them. So everyone wins!
The Mystery Bag is the best bargain! Thank you so much for the 5 star review, Ary!
Can you hear the nails sing? Singing the song of happy nails.
Revolutionary nail wraps of epic proportions. I bought the mystery wrap bag due to the fact I hadn't used wraps before and didn't want to buy something I really liked and fudge it up. The mystery wrap bag seemed like a good price for wraps I could have fun with and get use to. Was not at all disappointed. I couldn't sleep the first night though, the glow in the dark ones are seriously awesome and it's hard to sleep while staring at your nails.
Thank you for the 5 star love! The $30 Mystery Bag is the best for new Nail Wrappers! Practice Makes perfect. I have to agree with you on the glow-in-the-dark designs though. They are so beautiful you want to stay up all night admiring their beauty! -EC Team
Loved the variety
I love the nail wraps I received through this package
We are so glad you loved it, Judethemia! Thank you so much for the review! xo -EC Team
Amazing!
I am in love with all the nail wrap designs that were included!
YAY!!!! We are so glad you love them all! Thanks for showing us some love! -EC Team
$30 Mystery Bag
Great bang for the buck! Some similars in my bag and probably some slow sellers but I also got some wraps that I am excited to try out. Thumbs up!
This Mystery Bag is great for any thrifty shopper that loves adventure! We are so glad you enjoy, Larissa! -EC Team