THE LAST UNICORN: Lady Amalthea|| LICENSED Nail Wrap || 22-tip Set || 5pk
$ 30.00
$ 60.00
PLEASE

NOTE

PACKAGING MAY VARY
🌎 We're eliminating EXCESS packaging for our products. In an effort to become MORE environmentally friendly! 
🌎 Which means the packaging for your product may vary but the NAIL WRAP DESIGN is as pictured!
THIS IS A 5 PACK OF THIS DESIGN.
Stock up and SAVE on these hard to get wraps!


Feeling nostalgic? Revisit an animated favorite through these Officially Licensed nail wraps with purple and pink glitter accents!
---
Product Details
- 22 double-ended nail wraps
- Transparency / clear base
-
Cruelty-free, gluten-free, 10-free & vegan
Ingredients

Acetic Ether, Nitrocellulose, Glue (Acrylates Copolymer, Titanium Dioxide, Ethyl Acetate), Acrylic Acid, Noctilucent Powder, Titanium Pigment, lsopropyl Alcohol, Acrylic Resin, Noctilucent Powder, Titanium Dioxide, Glitter Powder, Butyl Acetate, Ethyl Benzene, Phosphor, N-Butyl Acetate, Poly Acrylic Acid, Hydroxypropyl Methacrylate, Dipentaerythrityl Hexaacrylate, Ethyl Acetate, Styrene/lsoprene Copolymer, Hydrogenated Poly (C6-20 Olefin), Hydroxycyclohexyl Phenyl Ketone, Bis-Trimethylbenzoyl Phenyl Phosphine Oxide, Pearl Powder, Aluminium Foil.
📦 SHIPPING INFO 📦
Need Help?

IMPORTANT SHIPPING INFO!

NOTE: Due to COVID-19 and our reduced capacity, we have modified how many days a week our team processes and ships website orders. In an effort to maximize our time and resources we are currently shipping unfulfilled orders AT LEAST ONCE A WEEK. Then please add shipping times on top of the processing time. Thank you.

📦 $5 Flat Rate U.S. Shipping
📦International shipments depend on weight & location. WE WISH WE COULD DO SOMETHING ABOUT THE HIGH COST OF INTERNATIONAL SHIPMENTS BUT THIS IS ENTIRELY OUT OF OUR HANDS.


Need More Help?
HAVE A CUSTOMER SERVICE INQUIRY OR GENERAL QUESTION?. Open a new chat with us on our website! Click the "CHAT WITH US" icon in the bottom corner to start!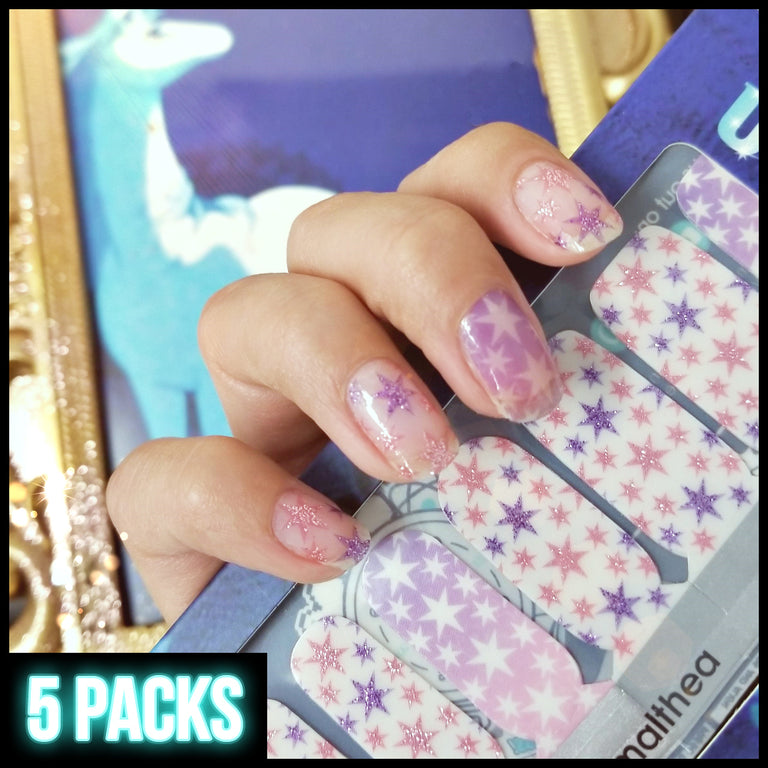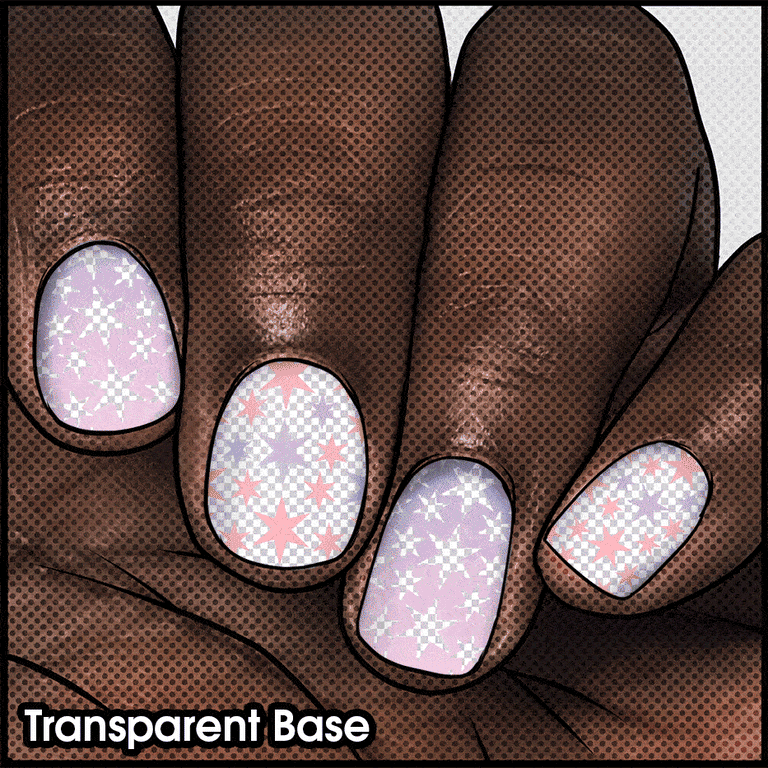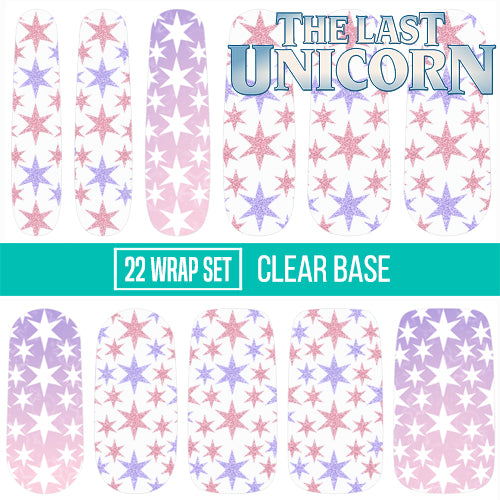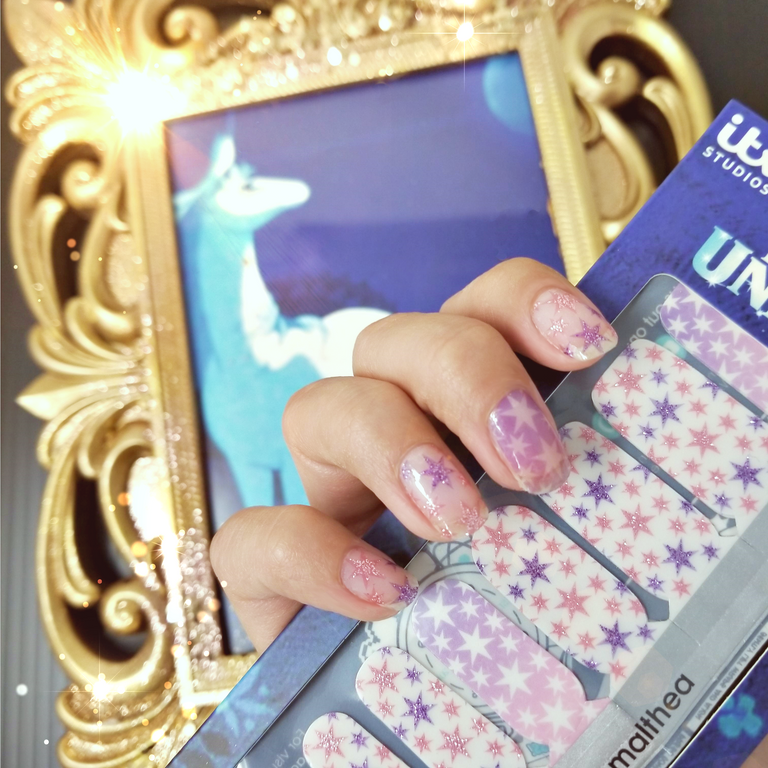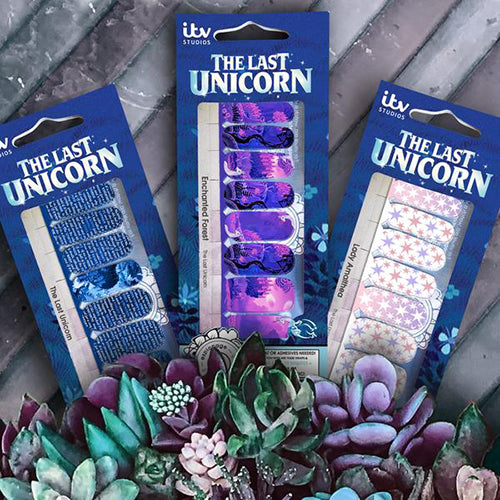 Little too transparent
It's really pretty, but if I don't put down some kind of pale opaque base coat I can't see the pattern at all, it's just vaguely opalescent. Even with a pale base coat on the nail it's hard to see anything unless you're really up close. I like the idea of the translucence, but would like more opacity so I can see the stars better
Thanks for the feedback on the design Stephanie! We really appreciate it and will pass it on to our designers!